What I'm Reading, August 2017
August 25, 2017 at 10:57 PM
Here are the books I've read and especially admired in recent months, February 2017-July 2017.
Holding Up the Universe by Jennifer Niven, YA fiction
Nineteen Eighty-Four by George Orwell, fiction
Rhythm and Resistance: Teaching Poetry for Social Justice by Linda Christensen and Dyan Watson, eds., professional
Diving Deep Into Nonfiction: Transferable Tools for Ready ANY Nonfiction Text, Grades 6-12 by Jeffrey Wilhelm and Michael Smith
Lincoln in the Bardo by George Saunders, historical fiction
Exit West by Moshin Hamid, fiction
Mortality by Christopher Hitchens, nonfiction, personal story
The Selected Poems of Donald Hall (selected by Donald Hall), poetry
The MOTH Presents All These Wonders: True Stories About Facing the Unknown by Catherine Burns, ed., first person accounts, short stories
Letters to a Young Writer by Colum McCann, essays, advice
Tell Me How It Ends: An Essay in Forty Questions by Valeria Luiselli, nonfiction essay on refugee children of war coming to U.S.
Just Mercy: A Story of Justice and Redemption by Bryan Stevenson, nonfiction memoir
Anything is Possible by Elizabeth Strout, fiction
All American Boys by Jason Reynolds and Brendan Kiely, YA fiction
Option B: Facing Adversity, Building Resilience, and Finding Joy by Sheryl Sandberg and Adam Grant, memoir, guide
Renew! Become a Better-and More Authentic-Writing Teacher by Shawn Coppola, professional
The Sympathizer by Viet Thanh Nguyen, fiction, Pulitzer Prize winner
The Refugees by Viet Thanh Nguyen, short stories
The Hate U Give by Angie Thomas, YA fiction
Gatekeepers: Let's Talk About Teaching by Tammy McMorrow,  professional
Memory's Last Breath by Gerda Saunders, dementia memoir
The Home That Was Our Country: A Memoir of Syria by Alia Malek, memoir
My favorite fiction books on the list are Exit West by Moshin Hamid and Anything is Possible by Elizabeth Strout. I was drawn to Exit West by the superlative reviews and to Anything is Possible because of my great regard for Elizabeth Strout's Pulitzer Prize winning book, Olive Kitteridge.  My favorites for nonfiction are Just Mercy by Brian Stevenson, which had been endorsed with raves by a discerning reader and dear friend, and The MOTH Presents All These Wonders, true short stories which are inspiring to read and are great writing models for high school students and aspiring writers. More about Exit West and Just Mercy, two remarkable books that are highly recommended for adult readers as well as high school students, follow.
Exit West by Moshin Hamid will take your breath away, both for the powerful storytelling and the elegant, detailed writing. Reading this book raised my consciousness about what it's like to live as a refugee in war-ravaged, unnamed cities and towns the world over. Telling his story through two charismatic characters—Nadia and Saeed, who fall in love—the reader comes away shaken by their experiences but also far more empathic about the complicated, heartbreaking lives of today's refugees. See two stellar reviews, The New York Times review by Viet Thank Nguyen and the Harper's Magazine review by Francine Prose,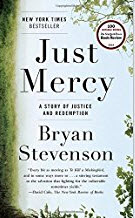 Just Mercy: A Story of Justice and Redemption by Brian Stevenson is a must-read memoir by an extraordinary lawyer who has devoted his entire life to righting heinous wrongs in our criminal justice system. Fighting tirelessly for the mistakenly convicted, who are mostly poor and black men, Stevenson shows how his humanity, perseverance, brilliance, and sheer will to counteract evil come together to free some of our most vulnerable, incarcerated citizens. This emotionally wrenching, deeply moving story on racial injustice in America will stay with you long after you've finished it. Brian Stevenson is an inspiring hero, who calls upon each of us to do our part to fight injustice. He is the founder and Executive Director of the Equal Justice Initiative. For more information on his life and work, see https://eji.org/bryan-stevenson.
Commentary: Abandoning a Book by a Beloved Author
I'm picky about what I choose to read. Once in a while, while browsing a sale table at one of Seattle's independent bookstores, I will buy a book based on its cover and back cover copy, but that's atypical.  Almost all the books I read come my way via some kind of rave review or recommendation—from a trusted book-loving friend, a great review in the New York Times, an intriguing, handwritten recommendation placed right below a book at the local bookstore, or just because it's a book by an author I already love—which serves as its own recommendation.
Because of those pre-selection criteria, it's rare for me to abandon a book and difficult for me to do so. Especially where I greatly admire the author, I feel a sense of obligation to read the whole book even when it turns out to be disappointing. Such was the case with Arundhati Roy's new and much heralded The Ministry of Utmost Happiness (2017), her first fiction book in twenty years. Her debut fiction, The God of Small Things, became an international, prize-winning sensation, and it remains one of my favorite books of all time. My emotional and literary admiration and attachment to that literary masterpiece caused me to reread it several times over the years.
With The Ministry of Utmost Happiness, I stuck with the book for 200 pages, but then I set it aside because it was just too dense and difficult to read. By that I mean, the effort to figure everything out and catch Roy's deep political and personal meanings took a lot of energy. She is a brilliant writer, and there are passages so gorgeously written that they bring "utmost happiness" to the reader. However, after the first 100 pages, I felt increasingly bored and overwhelmed. I powered on until I couldn't. With a mixture of guilt, remorse, and relief, I abandoned the book.
So what does this mean for our teaching? While many of us do take the time to guide our students on their self-selection of books, we also need to let them know, and perhaps establish together through class-authored criteria, when, how, and why we abandon books. This is important for a few reasons. First, we want students to love reading and spend most of their reading time on books they genuinely enjoy. Plodding through a very challenging or boring book is, in general, not useful for turning students into readers or sustaining them as engaged readers.
Secondly, students need to develop stamina as readers early on so that when they hit middle and high school, they are not overwhelmed by the increasing demands of texts, especially nonfiction ones—including the amount of reading required on standardized tests. Stamina develops from massive reading and understanding of texts students can and want to read. That said, some students abandon books too soon and wind up moving from one book to another, never developing the habits, skills, and stamina that robust readers possess. Like almost all we do in school and life, finding and maintaining a healthy balance is key.
Tags:
Category: My Reading
blog comments powered by

Disqus