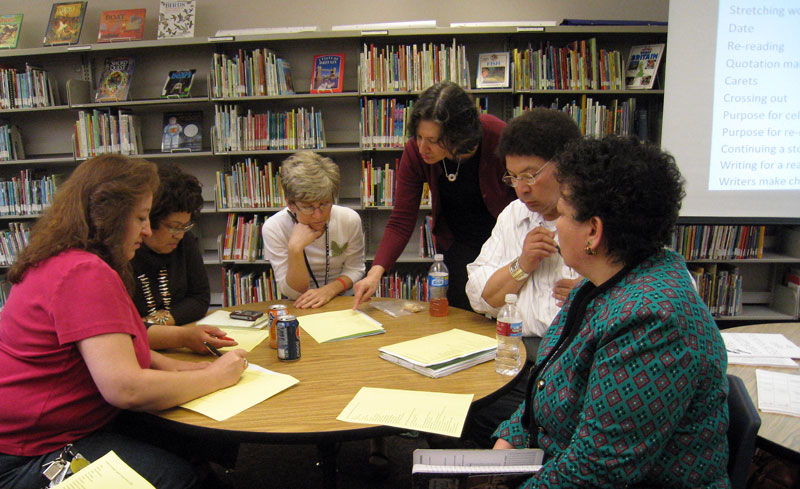 Transforming our Teaching
Regie Routman in Residence (RRIR) is a literacy and video-based professional development series whose goal is to accelerate literacy achievement for all learners. The series includes three separate but interrelated projects: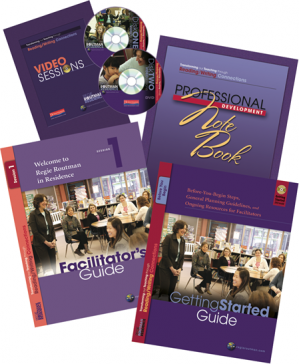 The projects provide extensive demonstration teaching along with carefully crafted experiences for shared, guided, and independent learning. Each project provides one to three years of professional development and works with any existing curriculum.
RRIR is designed to be a companion and explicit, easy-to-use guide for principals, coaches, and teachers seeking to embed ongoing professional development focused on excellent literacy practices, classroom-based assessment, and implementation of the Common Core State Standards.
For complete information on RRIR, including sample videos and lessons, frequently asked questions, and ordering, see the Regie Routman in Residence website.
Implementation
Schools may implement the projects independently, with on-site support, or with the aid of a full residency from Regie or her colleagues.
Independent implementation
The projects have been written to be implemented without additional, outside support and, therefore, include clear, explicit and detailed implementation guidelines. Each project comes with a a Getting Started Guide with videos, a separate facilitator's guide for each of the 14 sessions, and Professional Development Notebooks for every staff member. As well, each project includes access to a password-protected website containing numerous videos, downloadable professional articles, resources, student work samples, and lesson plans.
Implementation with on-site support
For those school and districts that prefer to have individual attention and additional support with getting started or ongoing implementation, Regie's team of outstanding educators is available to come into schools and districts and work directly with staff members. More information is available in the Professional Development Services brochure. Use the Contact page to make your specific request.
On-site residency
For schools and districts that have demonstrated at least a one-year commitment to implementing RRIR, Regie and her colleagues are available to conduct an on-site residency, typically three days in the fall with a follow-up of two days in the spring. Schools are carefully selected for strong principal leadership and teachers who are firmly dedicated to raising and sustaining literacy achievement schoolwide. For more details, see the Residency Plan.